During these uncertain times, re-opening a restaurant or business can be intimidating! Every state has its own policies and regulations when it comes to re-opening a business during the pandemic, which you should strictly follow. However, let's walk through a few tips on how to get more sales when you re-open.

Communicate with Customers
Before you even open your doors again, you should be communicating with your customers. Update them regularly on how they can stay safe while dining at your establishment. Have you changed your hours or do you provide outdoor and indoor seating? Do your customers know if they'll be seated away from others if they come in to eat? Are you offering other dining options like delivery or contactless ordering? You should encourage reservations so there isn't a crowded wait line and the restaurant can better prepare for social distancing tables. These are a few examples of updates you can email your customer base or post on social media. It's also important your Google Business page is updated with similar information. The more your customers know how you're handling safety precautions, the more trusting they'll be to keep doing business with you.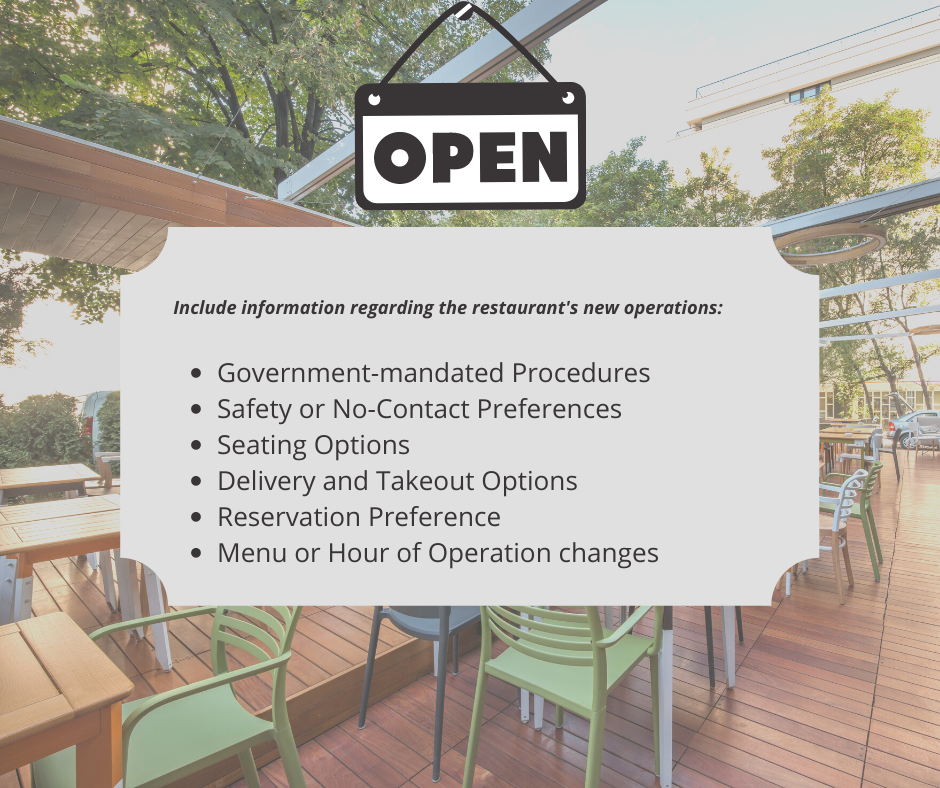 Host an Online Event
People are itching for a fun event to participate in. Why not use this time and engage with your audience online? Generate some extra cash by charging access to an online cooking class, wine and canvas, or a trivia night. This is also a great opportunity to give updates on what's going on with the restaurant, give them a coupon code to use, or host a giveaway!
Push Online Ordering 
Contactless ordering is essential for the survival of restaurants right now. Did you know Restaurant Manager is providing a FREE online ordering system for restaurants called Skytab Takeout? This includes a fully intuitive menu configuration for your own branded website. Customers can easily navigate the choices you have listed, and it directly sends their order to the kitchen. With so many people opting for takeout rather than dine-in, this solution is a no-brainer. Would you like to learn more about Skytab Takeout? Visit https://nitbcsys.com/contact-us/.