Restaurant Manager
The POS Your Restaurant will Never Outgrow
Restaurant Manager is a powerful yet flexible POS system that can be tailored to be used in any kind of dining or food service environment, including fine dining and table service restaurants, quick service, takeout and delivery, as well as bars and nightclubs.
​
Restaurant Manager users have access to a variety of applications that were designed to streamline the day-to-day activities of hospitality establishments while addressing the challenges these professionals face every day. These include mobile and cloud-based tools for remote management, fully integrated online ordering, customer loyalty programs and more.
Restaurant Manager's mobile solutions, RM Handheld, RM Kiosk, and RM Tablet offer wireless tableside ordering and payment processing on an iPod touch, iPad, or Windows tablets.
​
Restaurant Manager integrates with a number of peripheral devices, from printers and scanners to scales, cash drawers, coin dispensers, kitchen display units and more. The solution also interfaces directly with other enterprise systems, including accounting software, credit card processing services and front desk applications.
FEATURES
Traditional Touchscreen POS
Server-based POS management and reporting
One-time upfront cost
Ideal for small, mid-sized, large restaurants, and regional chains
Table Service
Quick Service
Bar/Nightclub
Delivery & Carryout
On-site installation, comprehensive training, and 24/7 support*
Custom programmed for your business by a Restaurant Manager authorized Programmer
Cutting-edge payment technology supports all major credit/debit cards, tableside ordering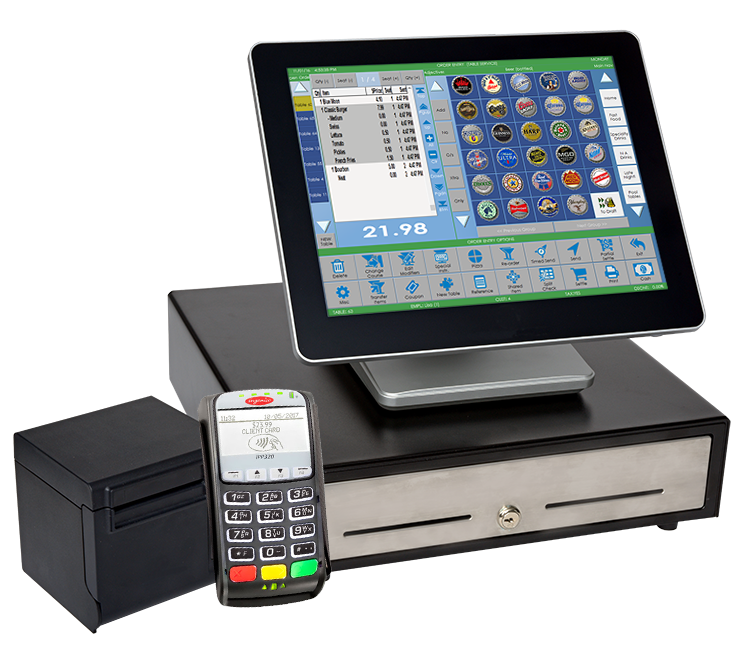 Restaurant Type